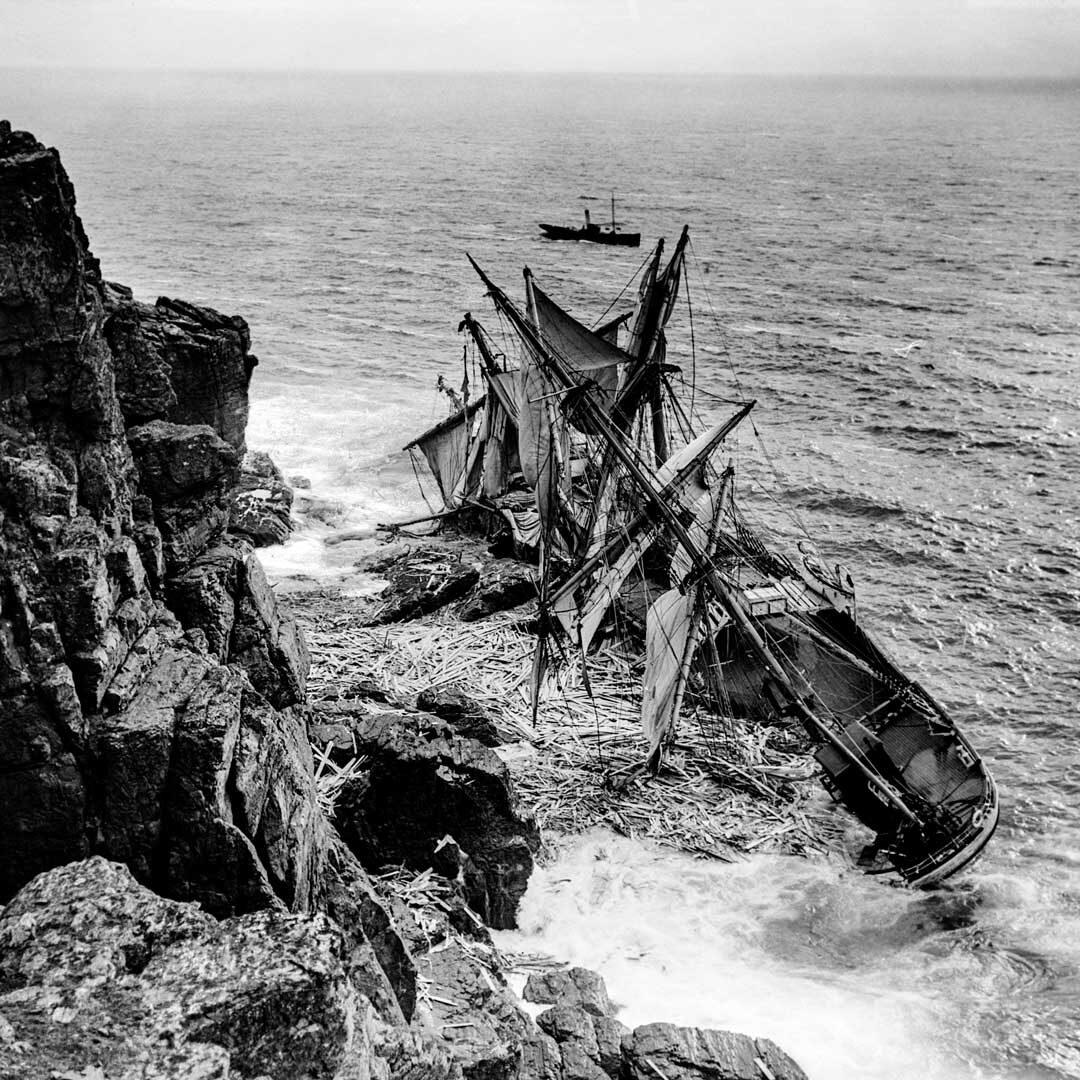 Key learning
Do you know why there are so many wrecks out the Scilly Isles, a small archipelago southwest of England? If not, read on – the dramatic stories and outstanding photographs make Shipwrecks a rediscovery of great ships from the past and a historical record of a bygone age.
When young Alex Gibson rushes out of the house, he knows he has not asked for his father's permission. He would not have given it. Nor has Alex said anything about "borrowing" his father's equipment. He expects to be starkly reprimanded when he comes home. If Alex does. But he knows that his camera is not reliable enough for what he sets out to do.
The camera and the glass plates are cumbersome to load onto the handcart; the portable darkroom and vials are safely stored, so they don't wobble too much during transportation. From there, they will be easily transferred into the dinghy.
This article tells the story of young Alex and the photography accomplishments of five generations of the Gibson family.
The bigger picture
Young Alex is unsure why he wants to do this, whether to prove something to himself, his father, or both. But he knows that the shipwreck pictures will be remembered for generations if he succeeds. The weather is filthy, and Alex feels his waistcoat getting wet under the raincoat. The wind is howling in his ears. The odds are against him, but then again, they always are.
Zooming in…
Rowing in the wild, foaming sea, the equipment secured under the tarp, young Alex is ready. It is not his first outing at sea to photograph a shipwreck, but this one is the first time he is going on his own. His father is much too unadventurous and timorous: he doesn't want to come too close to the ships lest they strike the rocks themselves.
But Alex is convinced that the best shots are the closest ones.
…zooming out
Alexander Gendall Gibson (1857-1944) is, well, young. On this cold November day in 1875. But what he's about to do, people will still marvel at and talk about for more than a hundred years.
The promising young man is on his way to photograph the SS Aksai – a Russian steamer that has run aground on White Island, north of St Martin's, Scilly Isles.
SS Aksai was wrecked in thick fog while on a voyage from Cardiff to Odessa with a cargo of coal. Fortunately, this time a total catastrophe was avoided as the captain and thirty-eight crew were saved by the Lady of the Isles.
Daring deeds
Understanding how photographs were made in the last quarter of the 19th century tells a lot about Alexander's achievements. He took not only a cumbersome large-format camera weighing several kilograms but also a few lenses and two heavy, fragile glass plates.
Having taken the photographs, he had to wrap them in a wet cloth to prevent the emulsion from drying out and get them back to the shore to develop them in the portable darkroom.
On a small boat. On a wild sea. During a storm. At 17 years of age.
The chemistry behind
The earliest photographers used a wet-plate process, also known as the collodion process, in which a glass plate coated with collodion solution (a mixture of nitrocellulose, ether and alcohol) is placed in a holder that has a cover to protect the plate from light.
The plate assembly is then loaded into a camera. After a shutter exposure of several seconds, the plate is removed from the camera, and the developing solution is poured over it in the darkroom tent. The whole procedure must be done quickly before the collodion dries out.
The last step is to fix and dry the plate and varnish it with gum Arabic.
Family business
Alexander learnt all this from his father, John Gibson (1827-1920), whose interest in photography was piqued in the early stages of camera development. And who would begin an unbroken tradition of photography running in his family like a genetic trait.
Although they were working under challenging conditions, travelling with a cart or boat to reach the shipwrecks – and scrambling over rocky crags and sand dunes with a portable dark room, carrying fragile glass plates and heavy equipment – they produced some of the most arresting and emotive photographic images of shipwrecks made in the nineteenth and twentieth centuries.
Pioneering pictures
The Gibsons were pioneers. At that time, most photographs were shot in a studio and were portraits. The equipment was so bulky and fragile that climbing over steep rocks hauling not just the camera and plates but a cumbersome dark room would be inconceivable to most people.
That the Gibsons pulled it off is impressive in and of itself; that they also created images of such beauty and emotional resonance makes the archive nothing short of miraculous.
Imagine how many pictures were lost to an unsuccessful chemical process – whether a glass plate breaking or the camera not working. How many blurred shots? How many trials and errors?
But the Gibsons' heroics do not stop there and then.
A picture and a thousand words
The Gibsons were also pioneers of photojournalism, photographing their first shipwreck in 1871, the same year the first telegraph arrived on the Isles of Scilly. The telegraph rapidly changed how the world received its news, and the Gibsons became the local news correspondents.
With John as the photographer and his son Alexander as the telegraphist, they could transmit the ship's identity, the number of deaths, and other vital facts worldwide in record time. They would also sell their prints to shipping companies to support their insurance claims and to newspapers and tourists alike.
Documenting times
At this time in photographic history, photographing on location required a portable darkroom like a waggon or handcart, glass plates, a heavy large-format camera, chemistry and other equipment. The harsh weather conditions made transporting the bulky equipment all the more difficult as ships rarely crashed during pleasant weather (even though it did happen – such as the Blue Jacket in 1898).
Through the storms, high winds, and churning seas, the Gibsons travelled by pony or rowboat to reach the ship before nightfall, or it sank, whichever came first. Sometimes, they didn't have to rush, as the ships were stranded on the rocks, patiently waiting to be repaired and refloated.
One such example is that of the Glenbervie, which appears on the print as a ghostly Flying Dutchman. Such an artful shot filled with melancholy that, had it been lying at the bottom of the sea, it could easily have fitted into the Voice of the Ocean's first picture book, Ghost Ships of the Baltic Sea.
The isles of a thousand shipwrecks
Time and again, the Isles of Scilly have been the theatre of many shipwrecks. Not only are the ships pulled in by strong tidal currents, but they are also quickly dismantled and entirely swallowed by the ceaselessly battering waves. Not to mention that its unique position at the tip of Cornwall subjects it to very rough weather.
The Gibsons' amazing photographs – taken of shipwrecks as they happened – help us understand the dramatic events that occurred. The pictures have become like time capsules, a mixture of serene beauty and haunting memories of brutal tragedies.
Individuals and voluntary and official organizations have aided in rescue missions for centuries. And we hope to give you as a reader a sense of the courage and heroism required to set out in lifeboats – then and now – as rescue services remain crucial to the safety of people at sea.
Gibsons of Scilly
Finally, we would like to point out that the Gibson family's photographs have appeared in several worthwhile books. However, none have been produced to a standard that matches the high quality of the pictures or on a scale that allows the images to be viewed in their true glory. That was a concern of Frank Gibson, who dreamed of creating a large-format illustrated volume. Sadly, he passed away in 2012, so he never got a chance to see this book.
About Shipwrecks
This magnificent book is the largest ever created on the subject, with over 100 exceptional images presented as never before alongside text by historian and diver Carl Douglas and marine archaeologist Björn Hagberg. The result is a work that conveys humankind's struggle against the elements.
You can buy your copy by following one of these links:
Swedish version from Adlibris
English version from Adlibris
All versions from Bokus
The book
Scope: 200 pages
Format: 32,8 x 24,7 cm
ISBN: 9789171265586
Release date: 2022-02-07
Prenumerera på vårt nyhetsbrev
We're excited to show you our work! Sign up and stay up-to-date with the research initiatives we support and other activities we engage in.